Environmental News
featured
Innovation
Pollution
Uncategorized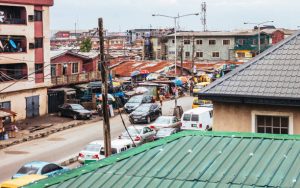 Roadside parking has become one of the major cause of gridlock on the streets of Lagos.
Lagos is the most populous city in Nigeria and the biggest city in Africa. Land is a treasure-trove in Lagos because the city is surrounded by bodies of water. So, anybody that has a space wants to maximize its benefits. Economically, this has its good sides, especially for the land owners.
Houses are now built without provision for parking space so we now have a state where residents park on either side of the road.  This detestable practice is now the order of the day. This has led to ugly acts like stealing cars, car parts, extracting diesel from cars etc. Residents park their cars with fear of probably losing their car or parts of their car which is so disheartening. Also,  pedestrians struggle with vehicles to move on the narrow paths of the road. It has also discouraged citizens from walking on the roads for leisure or exercise for fear of being hit by cars.
Roadside parking has become overbearing and should be fully addressed but how can it be addressed or curbed when houses are without car parks ? Where will residents park their cars?
A recent study conducted by the Lagos State Metropolitan Area Transport Authority, LAMATA, has shown that a major cause of traffic jam in Lagos is Roadside parking.
Building an organized parking facilities in different parts of the city and ensuring that architectures include good parking space in every residential building, school, church or office building plan. This would certainly help reduce traffic along the largely congested roads. Moreover, it will not only reduce traffic but prove to be a revenue generator for the state. If this is appropriately addressed, it will not only create an enabling environment for everyone to live, it will also improve the state of living of everybody in the areas concerned.
Source: http://globalpatriotnews.com/opinion-addressing-the-problem-of-street-parking-in-lagos-by-modupe-ileyemi/